Senior citizens are more prone to stress, and having the best dog breeds can be a lifesaver. With many choices to pick, what are the right breeds for the elderly at home? 
Worry no more! In this article, you will know some factors to consider when selecting a dog. That's not all! You will also learn the top 15 Best Dog Breeds for Senior Citizens. Without further ado, let's begin!
1. Havanese Dogs 
Are you searching for the best breed without a good result? Don't look further than Havanese dogs. They are not only tiny but also strong, making them a good watchdog. 
Weighing around ten lbs., Havanese dogs are 10 inches tall. Their curly coat makes them stunning and attractive. But it is hard to maintain, which requires a lot of time and effort. Grooming the coat, however, can be a good exercise for everyone. 
Aside from the curly and bright coat, Havanese dogs are super social. They can get along with other breeds and strangers. But proper training should not be overlooked. 
They are also loyal, making them a perfect buddy for seniors. Apart from costly maintenance, never leave them alone for a long period unless they are well-trained and highly responsible. 
Before you give your parents with Havanese dogs, make sure they have been trained by a competent and capable professional. 
2. French Bulldog
Another best breed to weigh in mind is the French Bulldog. With their compact size, they are easy and fun to take good care of. Weighing from 15 to 20 pounds, French Bulldogs are just a foot tall. 
What makes them popular for seniors is that they are extremely friendly. They can socialize with your close friends, relatives, and colleagues without a hard time. 
Yes, French Bulldogs tend to drool and shed. But they are ideal pets for seniors who especially reside in small or medium-sized apartments. 
While some might excessively bark, other French Bulldogs don't. They won't annoy your neighbors indeed. 
Similar to other breeds, French Bulldogs love to have companionship 24/7. So, make sure to give them the love, care, and affection. 
Although they are small, never underestimate their size as they can be dangerous for strangers and intruders. 
Aside from being friendly and social, French Bulldogs are quiet and affectionate, helping the elderly at home relaxing. 
3. Pembroke Welsh Corgi 
Seniors get lonely and depressed. Brighten up their day with Pembroke Welsh Corgi. Like other breeds, Corgi is caring and affectionate, making them ideal for seniors. 
Originally, Corgis served as herds. For that reason, they are extremely trainable and smart. They can learn and understand drills with enough rewards and quality treats. 
They are playful and can be your mom's natural exercise buddy every day. While your parent can stay fit, Corgi can also remain physically active. 
What makes them a top choice for everyone is that they are extremely loyal. That's why they deserve your time, care, and love. 
Corgis also enjoy your cuddle, making them an attention-seeker sometimes. 
Although they are small, they have a lot of energy. So, it is important to provide them enough and varied exercise daily. 
Aside from Pembroke Welsh Corgi, you can also have a Cardigan Welsh Corgi. 
4. Lhasa Apso 
When looking for a breed for senior citizens, you probably think of Havanese dogs and French Bulldog. 
What's an excellent alternative to try? Well, your long wait is finally over with Lhasa Apso. 
They are intelligent, making them easy and fun to train. But it can be a headache, especially for beginners. As days pass by, you would find the process convenient and stress-free. 
Lhasa Apsos are children-friendly. They socialize with kids at home, just like the other breeds in this list. However, regular and proper training should not be underestimated.  
Although they are small, Lhasa Apsos are a great watchdog. They can protect your home from intruders and strangers as well. 
Yes, they are playful, making the seniors in the family happy and relaxed at the same time. 
Another advantage of having a Lhasa Apso is that they do not require a big space. They are a good choice for those who live in apartments and other small residential property. 
5. Beagle 
One of the most famous dog breeds, Beagles are a favorite by seniors because of their personality and maintenance. 
Popular for their energy and sense of smell, Beagles enjoy any hunting and tracking activity. They can also be ratters at home if the need arises. 
Despite that, this dog breed is great companions for seniors and other pet owners from all walks of life because of its affectionate disposition. 
Beagles also have good stamina. But they are not capable of handling excessive exercise. A simple walk in the garden and backyard is more than enough. 
But wait, there's more! You can leave a Beagle at home for a long period. They can take care of themselves when left alone. It's just that they require extensive and thorough training. 
Beagles can also get along with other pets and are simple to take good care of. 
6. Greyhound
Gentle, affectionate, and clean dog? A good breed for apartments? Your long wait is over with Greyhound. 
For the past few years, they are popular for racing and other intense outdoor activities. Now, they are one of the most laid back dog breeds you cannot afford to miss. 
Aside from having lots of energy, they are a low maintenance dog, helping you save some cash and avoid other unnecessary expenses over time. 
Greyhounds are also an excellent companion you can ever have this 2020. Just give them a warm and comfortable place as they will repay you with kindness, care, and love. 
As a great apartment dog, Greyhounds are quiet and calm. They love to lounge around your favorite comfy area. They are also happy to take a nap for hours while your mom tills the soil. 
What else? This dog breed has excellent manners. They are gentle, quiet, clean, and mild-mannered. However, thorough training should not be overlooked. 
7. West Highland White Terrier 
Commonly known as Westies, West Highland White Terrier is another right breed for senior citizens. 
Weighing around 15 lbs., Westies can grow up to one foot tall. Despite their small size, they have a great personality your elderly parents would enjoy every day. 
Westies are a smart dog. They are trainable. Just provide them with tasty treats and varied rewards to give them an engaging experience and retain their learning in the long run.
Westies can be a therapeutic dog, making the life of the elderly less stressful and more comfortable. 
What else? West Highland White Terriers are independent and affectionate. They are loyal and social pets that would take the life of senior citizens into the next level. 
While other dogs require 24/7 companionship, Westies are far different. They can live by themselves sometimes. They can also be loving. 
8. Chihuahua 
Excellent pets for seniors, Chihuahuas are full of personality and life, although they can only weigh around 5 lbs. 
Another greatest benefit of Chihuahuas is that they can be watchdogs. Whether you go to the office or mall, this breed can protect your home according to your expectations and unique needs. 
Larger breeds can also be considered. However, they require a lot of exercise. Chihuahuas, on the other hand, are different. 
Because of their small size, Chihuahuas don't need an extensive workout routine. Walking with them in the garden is more than enough. 
Teacup Chihuahuas are also fiercely loyal, making them aggressive towards strangers and intruders. 
However, their lots of energy can be a headache for some seniors. If your parents can still keep up with their great personality, it would be a bright idea to have a pair or more at home. 
Whether your mom or dad feel stressed these days, Chihuahuas can change their mood and perspective. 
9. Bichon Frise
If you have Chihuahua at home and want other breeds, Bichon Frise will be perfect. 
Specifically bred to be a good companion, Bichon Frise is one of the most affectionate and sweetest dogs ever. Their great personality makes them an incredible family pet. 
Unfortunately, Bichon Frise might be easily injured. So, orient young children at home to avoid serious injuries at the end of the day. 
Bichon Frise is often called natural entertainers. They love being the center of attention. Since the 19th century, they have usually performed on the street, making passersby happy. 
This breed is also intelligent. You can teach one with any trick you find from many online platforms. But make sure to give them rewards. Positive reinforcement, like treats, can ensure retention and learning. 
Bichon Frise is famous for being active and playful. So, give this breed enough outdoor activities to stay healthy and fit. 
10. Yorkshire Terrier
Great personality? Compact size? Yorkies got you covered!  Their silky coat is available in different colors, so you have many options to consider. 
They live for a long time. Some can reach up to 15 years. Others can last for 20 years, and a fully packed diet can play a critical role. 
In addition to their compact size, Yorkshire Terriers are suited for senior citizens because of their affection and intelligence. 
They love attention, are seamless to train, and won't be a headache to be with. Since they require regular exercise, they can keep your elderly parents fit and healthy all year round. 
Used as ratters before, Yorkshire Terriers can be outstanding and versatile watchdogs. Thanks to their keen sense of hearing. 
Yorkies are hypoallergenic pets you shouldn't miss. Unlike other breeds, Yorkies don't shed much. They are indeed suitable for those who have asthma and other serious allergies. 
11. Welsh Terrier 
Your grandparents might be asking for a Welsh Terrier, and you're probably wondering why. 
Well, the great personality of this dog breed is one reason. They are friendly, playful, and outgoing. 
Similar to other terrier breeds, Welshies have a high prey drive. Bred to hunt, Welsh Terrier can also chase and even kill vermin, badgers, and fox. Being so much relentless, they will go after anything that moves. Known for powerful jaws and build, they can protect themselves from badgers with sharp teeth. 
Since they are full of energy, Welshies are always ready to play. They can walk and run with you around the premises of your home. They can swim and do other outdoor activities without hesitation. 
Apart from being one of the best breeds for senior citizens, they are ideal for children. But don't leave them with kids alone. It is important to supervise them as much as you can to avoid accidents and injuries in the future. 
12. Pomeranian 
Let's be honest. Everyone loves Pomeranian. If you are one of them, we cannot blame you as Pomeranians are lovable. 
Their cute appearance makes them a go-to option for a lot of aspiring pet owners. They are blessed with fox-like, adorable, and smiling faces. Their eyes are almond-shaped. Their ears are pricked. Their tail is heavily plumed while their coat is thick. 
Just like other dogs, Pomeranians have a convenient size. Generally, they weigh a maximum of 7 lbs., making it excellent for senior citizens. 
Pomeranians are also a happy camper. They are fun to be with, changing your mood. They get hyper, especially when fun events take place. 
They love to receive attention, so don't leave them alone at home for hours. They might destroy your carpet, couch, and other pieces of upholstery. This is where proper training can make a difference. Plus, they are trainable and smart. 
13. Cavalier King Charles Spaniel
As the name indicates, Cavalier King Charles Spaniel might sound intimidating. But it is not like the way you think. 
Cavalier King Charles Spaniel is another gentle breed for senior citizens. They are independent and can be their best buddy every day without complaints. 
This dog breed has a straight and silky coat fur that's available in different colors. Yes, they are stunning and can make everyone smile and laugh.
Bred to be lap dogs, Cavalier King Charles Spaniel is an incredible armchair pet. They are also faithful and loving, increasing their popularity as a good companion for older folks. 
If you feel a bit worried about having Cavalier King Charles Spaniel, don't worry! It is normal for new pet owners. As soon as you cuddle this breed, you would think that you make a good decision. 
So, what are you waiting for? Adopt a Cavalier King Charles Spaniel today! 
14. Maltese 
Let's admit it! Getting older can be lonely—our loved one move. Good news! There are great sources of comfort and having a Maltese dog is a bright idea. 
A playful and energetic Maltese can become therapeutic. According to experts, they can reduce stress, increase social interaction, promote physical activity, lower blood pressure, and alleviate symptoms of depression. 
One advantage of having Maltese is that they are loyal to their family. Depending on their training, Maltese dogs will try to defend you when the need arises. Their protective nature is what makes them a sought-after watchdog. 
When looking for a dog, the size of your home should be considered. If you have small residential property or apartment, Maltese dogs are perfect. You don't need a large lawn for them to play on. 
Another benefit of having Maltese dogs is the cost of feeding. Yes, they are quite low. Plus, you can say bye to unnecessary expenses and acquire bigger savings at the end of the day. 
15. Boston Terrier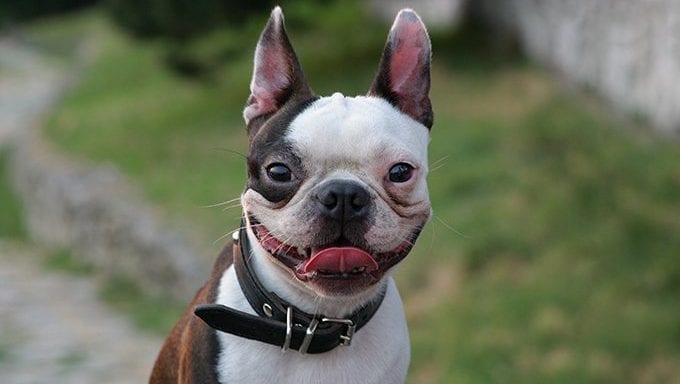 Probably, one of your friends recommends Boston Terrier. What makes this breed a good pet? Why should you choose it over the others? 
Boston Terrier is ideal for seniors because of their small size, energy, and great personality. 
This breed is also good for kids. They love to play around with children. They mingle with all members of the family. 
More than a playing buddy, Boston Terrier can be a good watchdog. They can also protect your relatives from intruders and other possible dangers. 
That's not all! Boston Terrier is intuitive, trainable, and has a goofy personality. 
Factors to Consider When Looking for a Dog for Seniors 
Searching for the breed that best matches the needs of the elderly is never easy. Here are some selection pointers to think about: 
Energy Level 
Some dogs require an extensive workout routine. Others don't. In case the seniors in the family are still active, breeds that love hours of playtime are an ideal choice. 
But avoid them when your grandparents suffer from stamina or mobility issues. 
Size 
There's nothing to be afraid of when taking good care of larger dogs. However, they are harder to control and not perfect for seniors. Smaller dogs are a greater alternative. They are recommended for those who live in core facilities, condos, and even apartments. 
Grooming Requirements 
Some dogs have to be bathed, clipped, and trimmed regularly. Other breeds just require a simple grooming routine. The trick here is to take advantage of options that seniors can manage. 
Reference –